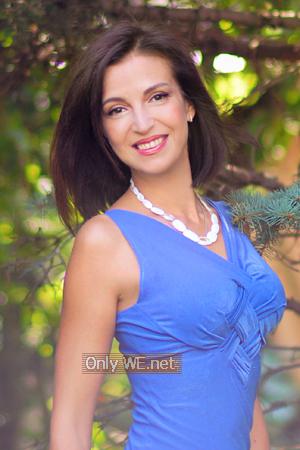 ID: 175137
Elena
Ukraine
City:
Kharkov
Age:
45
Zodiac:
Taurus
,
mouse
Weight:
150lb, 68kg
Height:
5'9", 175cm
Eye Color:
Brown
Hair Color:
Brown
Marital Status:
Divorced
Children:
2 - girl, 22; girl, 11
Religion:
Christian (Orthodox)
Smoker:
No
Drinker:
No
Education:
University
Company:
Private
Job Title:
Freelancer
Sports:
Gym
Hobbies:
Painting, reading, cooking
English:
fair
Languages:
Ukrainian (good),Russian (native)
Self Description: I may never get another chance to make a good impression, so I better tell something about myself. My kids and I are very close; we spend our time that we have with each other because we want too. Helping my family when things are hard is what I do. My friends often ask me to provide answers to lifeís tough road. I would describe my qualities as patience, understanding, flexibility, empathy, compassion and reliability. I am easy-going, supportive, funny, intelligent and caring. I love discovering new things and new places. I always try to learn something new every day. Dress properly, keep fit and act as a lady should. I maintain my mystery. I am alluring and exotic with eyes to a soul and I let you discover it, if you act as a gentleman!
Comments: My future plans are to find my best friend, true love and partner for life. I want to get married and start a family. I am here to start a serious relationship. I try to treat people in the manner that I want to be treated. I believe that relationships are built on trust and a partnership of equals. I believe in a lot of things, such as the heart should be opened before the eye is permitted to discover. I don't need my partner to feed my ego. Be supportive, yes, encouraging, absolutely, but not to constantly be boosting yourself worth. Your partner is your partner, an equal, not subservient or a slave. I dislike dishonestly, betrayal, liars and people that are hypocrites. The most important thing that makes a house a home is love and mutual understanding. I want so much to be holding each otherís hands, and cuddling, and walking near the sea in evening, and feeling each otherís skin next to each other. I wish my man to be romantic, tender and reliable.